The SkyBridge Alternatives (SALT) Conference is committed to facilitating balanced discussions and debates on macro-economic trends, geo-political events and alternative investment opportunities within the context of a dynamic global economy. With over 1,000 thought leaders, public policy officials, business professionals, and investors from over 36 countries and 6 continents, the SALT Conference provides an unmatched opportunity for attendees from around the world to connect with global leaders and network with industry peers.
Over the course of the program, more than 100 speakers will participate in over three dozen panels, speeches, and breakout sessions that address critical geopolitical and economic issues. The agenda is designed to provide multiple perspectives on a variety of salient topics within the context of a dynamic global economy. With notable keynote speakers such as President Bill Clinton, President George W. Bush, President Sarkozy, Prime Minister Tony Blair, Prime Minister Ehud Barak, Vice President Al Gore, Governor Mitt Romney, General Colin Powell, the Honorable Gordon Brown, Secretary Leon Panetta, Minister Lim Hng Kiang, Lim Chow Kiat, Jim Rogers, Nouriel Roubini, Kishore Mahbubani, Steve Cohen, Daniel Loeb, John Paulson, Paul Singer, Al Pacino and Oliver Stone, the SALT Conference has proven to be an enlightening, informative and entertaining event.
SkyBridge Capital II, LLC ("SkyBridge") is a research driven alternative investment firm with approximately $7.9 billion in total assets under advisement or management as of April 30, 2013. SkyBridge has been providing investment management services directly or through its predecessor, SkyBridge Capital, LLC, since 2005. The firm offers hedge fund investing solutions that address a wide range of market participants from individual retail investors to large institutions. Our businesses include commingled funds of hedge funds products, customized separate account portfolios and hedge fund advisory services.
For more information, visit www.skybridgecapital.com.
When and where will SALT Asia take place?
SALT Asia will take place from September 24 – 27, 2013 at:
Marina Bay Sands
10 Bayfront Avenue
Singapore
Room Reservations: + 65 6688 8889
Web: http://www.marinabaysands.com/
We anticipate 1,000 participants at SALT Asia. The target breakdown is as follows: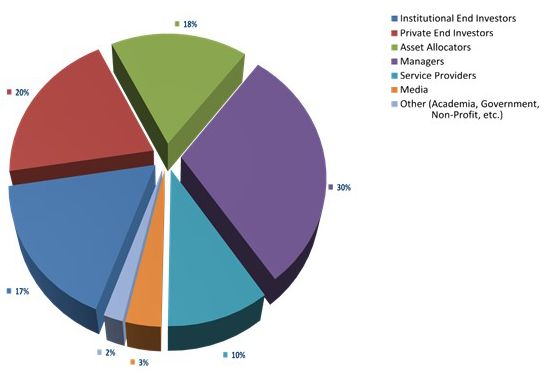 Are any sponsorship opportunities available for SALT?
Partnership packages - comprised of speaking engagements, exhibitions, and event sponsorships - can be crafted to meet your firm's specific goals and objectives. To inquire about pricing, please contact Samantha Nick via email at snick@skybridgecapital.com or by phone at +1.212.485.3121.
To register for the 2013 SALT Asia Conference, click here.
Registration is by invitation only. To request an invitation, please click here. All invitation requests and registrations are individually reviewed and subject to approval by SkyBridge Capital.
What payment options are available for SALT registration?
Payment is due at the time of registration using the secure online form and may be made by American Express, Visa, MasterCard, or Discover. Payment by check or wire is available upon request by contacting Samantha Nick via email at snick@skybridgecapital.com or by phone at +1.212.485.3121
How do I get a copy of my registration invoice?
Your email confirmation, sent to you after you complete the online registration form, will serve as your receipt. If you need any additional documentation, please contact Samantha Nick via email at snick@skybridgecapital.com or by phone at +1.212.485.3121
If I can only attend SALT for one day, do I have to pay the full registration fee?
All registrations are for the full duration of the conference. Whether you attend one day or take part in the full program, the same registration fee applies.
May I attend SALT as a member of the press/media?
Members of the press or media wishing to attend SALT must submit credentials and request advance approval of SkyBridge by contacting Suzanne Hallberg of SkyBridge Capital (212.485.3127| shallberg@skybridgecapital.com) prior to completing the online registration form. All media delegates will be asked to agree and comply to our press policy.

Press Policy

Press authorized to attend SALT Asia 2013 must be pre-approved and registered through SkyBridge Capital or its PR firm, PINPOINT Public Relations. Unless otherwise notified, registered press are free to attend all plenary sessions throughout the conference. Though many of the presentations will be considered on-the-record, there may be presentations that will be strictly OFF-THE-RECORD. SkyBridge has the right to deem any session as OFF-THE-RECORD and/or closed to press, and notify press thereof, at any time before or throughout the conference. Requests for interviews with SkyBridge Capital executives must be made through Illka Gobius at PINPOINT Public Relations at illka.gobius@pinpoint-pr.net or Suzanne Hallberg at SkyBridge Capital at shallberg@skybridgecapital.com. PINPOINT/SkyBridge are not responsible for the speakers' schedules and therefore any requests for meetings or interviews with speakers, sponsors and other third-party conference participants must be arranged directly through their public relations department.
How do I Cancel My Registration?
Registration cancellation requests received in writing on or prior to August 30th, 2013 will qualify for a refund, less a 15% administration fee. No refund will be given on cancellation requests received after this date. Please contact Samantha Nick via email at snick@skybridgecapital.com or by phone at +1.212.485.3121 with any cancellation or transfer requests.
Can I Transfer my Registration?
Should the original registered participant be unable to attend, a substitute is welcome at no extra charge. Substitutions may be made through August 30th, 2013. Any cancellation or substitution requests should be made to Samantha Nick via email at snick@skybridgecapital.com or by phone at +1.212.485.3121. No partial transfers are permitted.
Does Marina Bay Sands offer a special rate for SALT participants?
SkyBridge has secured a limited number of guest rooms at the exclusive rate of SGD$360.00 per night between September 17 and September 27, 2013. These rooms will be available on a first-come-first-serve basis to SALT ASIA participants. The negotiated rate will not be available after Tuesday, September 3, 2013.
To secure your room, please visit the Venue page on the SALT website here. If you are experiencing any difficulties, please call the Call Center at + 65 6688 8889 and reference SkyBridge. Please call asap as these rooms are limited.
What is the nearest airport to SALT?
Changi Airport is the nearest airport to the Marina Bay Sands.
How do I check in to SALT when I arrive?
The SALT registration areas will be clearly marked and remain open from Tuesday evening through Friday morning. All attendees may be asked to submit a business card and/or to present photographic identification upon arrival to the conference.
What is the suggested attire for the SALT Conference?
Dress at the SALT Conference is business attire unless otherwise indicated on the agenda. SALT name badges must be worn at all times throughout the SALT Conference in order to gain admission to all sessions, meals and functions.
May I bring a guest to the evening events?
Unfortunately, due to venue capacity limitations, guests may not attend the day-time sessions or the evening events. Admission to all events, including meals and nightclub excursions, is exclusive to registered participants only.
Am I allowed to record any of the SALT sessions or events?
No, any unauthorized recording of the SALT sessions or events is strictly prohibited.
Will anyone be taking pictures during the conference?
Yes, pictures will be taken during the conference. By registering for the conference, you acknowledge that there is a possibility your picture may be taken. Please click here to read the full Terms and Conditions.